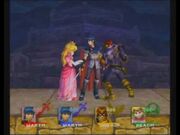 We know this is a Wiki for Sanity Not Included and we want to keep it that way! This just shows the first series that GuitarMasterX7 and DexterBoy124 worked on together.
There are two parts and obviously its done in Super Smash Bros. Brawl.
This is a important moment for the creators which really bridged there relationship and which lead to Sanity Not Included.