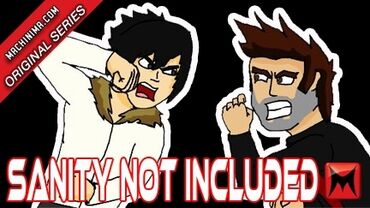 Sanity Not Included is a Machinima series, created by DexterBoy124 and GuitarMasterX7. Later DexterBoy124 and ImmortalHD. During one of Dex's Livestreams he said that there possibley won't be a 6th season of Sanity.
Characters
Edit
There are two main characters in Sanity Not Included (for season 1-3),  Dexter and Lyle. Dexter is British and Lyle is American, they share a house together and most episodes feature them during their daily routine.  Later Lyle was replaced by Aleks.
Other Characters
Edit
The other two main characters that have appeared in the episodes (more frequently in Season 2) are Nina and Amanda. Nina and Lyle share a relationship and Amanda and Dexter share a relationship aswell.
Cast And Creators
Edit
Dexter is voiced by Dexter Manning whose youtube name is TheDexterManning (prevously Dexterboy124).
Lyle is voiced by GuitarMasterX7.
Nina is voiced by Meg Dwyer
Amanda is voiced by Kimlinh Tran.
Aleks is voiced by ImmortalHD
Animations by Spazkid3D
For a list of all episodes and seasons, click here.
| | | | |
| --- | --- | --- | --- |
| Season #             | Air Date | # Of Episodes | Cover |
| Season 1 | June 13, 2010 | 13 | |
| Season 2 | February 13, 2011 | 14 | |
| Season 3 | November 25, 2012 | 6 | |
| Season 4 | April 28, 2013 | TBA | |
| Season 5 | | | |